IR CAF2 MGF2 BAF2 Optische Windows -Objektive
| | |
| --- | --- |
| Einheitspreis: | 16.8 USD |
| Minimum der Bestellmenge: | 50 Others |

| | |
| --- | --- |
| Verpakung: | Standard- und Schutzverpackung |
| Produktivität: | 80000000pcs/year |
| Marke: | Zoolied |
| Transport: | Air,Express |
| Ort Von Zukunft: | Changchun |
| Versorgungsmaterial-Fähigkeit: | 8000000pcs/year |
| Zertifikate : | ISO9001 |
| HS-Code: | 90019090 |
| Hafen: | Changchun,Dalian,Beijing |
Produktbeschreibung
The Spherical lenses is one of the main elements in the optical experiment, which can be made of many different optical materials and used for the collimation, focusing and imaging of the beam. Zoolied provides a variety of spherical and Optical Aspherical Lens, mainly made of BK7 glass, ultraviolet grade fused silica (UVFS), infrared grade calcium fluoride (CaF2), magnesium fluoride (MgF2), and zinc selenide (ZnSe). In the spectral range from visible light to near infrared less than 2.14m, BK7 glass has good performance and moderate price. In the UV region up to 195nm, UV grade fused silica is a very good choice. In the visible light to near-infrared 2.1Hm range, fused silica has a higher transmittance than BK7 glass, better uniformity and lower thermal expansion coefficient. Calcium fluoride and magnesium fluoride are suitable for deep ultraviolet or infrared applications.

BK7 glass
BK7 is a common borosilicate crown glass, which is widely used as an optical material in the visible and near infrared regions. Its high uniformity, low bubble and impurity content, and simple production and processing technology make it a good choice for making transmissive optical components. The hardness of BK7 is also relatively high, which can prevent scratches. The transmission spectrum range is 380- -2100m. However, it has a high thermal expansion coefficient and is not suitable for use in applications where the ambient temperature is changeable.

UV Grade Fused Silica(UVFS)
Ultraviolet grade fused silica is a synthetic amorphous fused silica material with extremely high purity. This amorphous quartz glass has a very low thermal expansion coefficient, good optical properties, and high ultraviolet transmittance, which can transmit ultraviolet light up to 195nm. Its transmittance and uniformity are better than those of quartz crystal, and it does not have the problems of orientation and thermal instability of quartz crystals. Due to its high laser damage threshold, fused silica is often used in high-power laser applications. Its spectral transmission range can reach 2.1Hm, and it has good refractive index uniformity and extremely low impurity content. Common applications include transmissive and refractive optical components, especially those that require high laser damage thresholds.

CaF2 calcium fluoride
Calcium fluoride is a crystalline material with a simple cubic lattice structure, which is grown and prepared by vacuum Stockbarger technology. It has good transmittance from the vacuum ultraviolet band to the infrared band. This wide-spectrum transmission characteristic, coupled with its lack of birefringence, makes it an ideal choice for wide-spectrum applications from ultraviolet to infrared. Calcium fluoride has a transmittance of more than 90% in 0.25-7Hm, and has a high laser damage threshold. It is often used to make optical components for excimer lasers. Infrared-grade calcium fluoride is usually grown from fluorite, which is visible in nature, and has low cost. However, calcium fluoride has a large thermal expansion coefficient and poor thermal stability, so avoid using it in high temperature environments. Calcium fluoride has a relatively low refractive index, so it is usually not necessary to coat the surface with an anti-reflection coating.

MgF2 magnesium fluoride
Magnesium fluoride is a crystal with positive birefringence and can be grown using Stockbarger technology. It also has good transmission from vacuum ultraviolet to infrared. Usually, the c-axis is parallel to the optical axis during cutting to reduce the birefringence. Magnesium fluoride is another choice of deep ultraviolet to infrared optical materials, with a transmission range of 0.15-6. 51Hm. In addition, it can be used in fluorine-containing environments, and can be used as lenses, windows, polarizers, etc. of excimer lasers. Magnesium fluoride has good thermal stability and hardness, and has a high laser damage threshold. Its refractive index is also relatively low, and no antireflection coating is usually required. Magnesium fluoride is more durable than other deep ultraviolet to infrared optical materials. These properties make it an ideal choice for many biological and military applications that use wide bandwidth laser pulse imaging.

Crystal Quartz
Quartz is a uniaxial positive birefringent single crystal crystal, which can be grown by hydrothermal method. It has good transmittance in the vacuum ultraviolet to near infrared region. Because of its birefringent properties, quartz crystals are often used as wave plate materials.

ZnSe zinc selenide
Zinc selenide can be prepared by chemical vapor deposition and is commonly used in thermal imaging and medical systems. As a widely used infrared lens material, zinc selenide has a wide transmission spectrum of 600nm-16Hm. It has a high refractive index, and it is generally necessary to coat the surface with an anti-reflection coating to reduce reflection. Zinc selenide material is soft and easily scratched, so it is not suitable for rough environments. Pay special attention to cleaning and installation. Because of its high transmittance and heat resistance, zinc selenide has become the best choice for optical component materials for high-power carbon dioxide lasers.

Zoolied Inc. offers a variety of optical glass lenses and windows, such as Cylindrical Lens, Optical Aspherical Lens, and CVD ZnSe Lens. ZOOLIED provides multiple anti-reflection coating options for the Ultraviolet (UV), visible, or IR Optical Lens and also provides uncoated optical Lens based on K9 optical glass, K7 and UV fused silica. Looking for ideal Spherical lenses Manufacturer & supplier? We have a wide selection at great prices to help you get creative. All the uncoated and coated optical lens is quality guaranteed. Zoolied is China Origin Factory of optical components. If you have any question, please feel free to contact us.

Note: Please pay attention to your email at any time after inquiring, we will send you the quotation by email.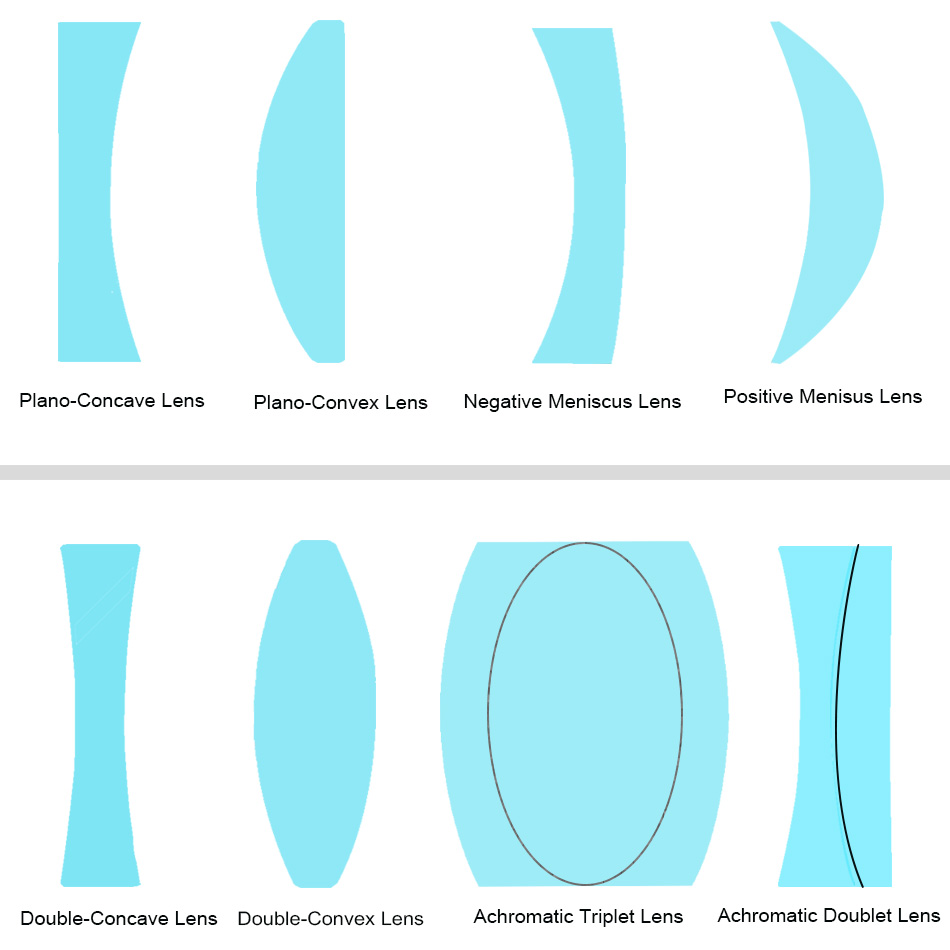 Zoolied also supply a custom range of general purpose grade which utilise ophthalmic lens blanks offering low cost solutions. The custom range has a wide selection of powers and is available in positive and negative options. Zoolied also supply a range of custom meniscus lens set for convenience of experimental and design work.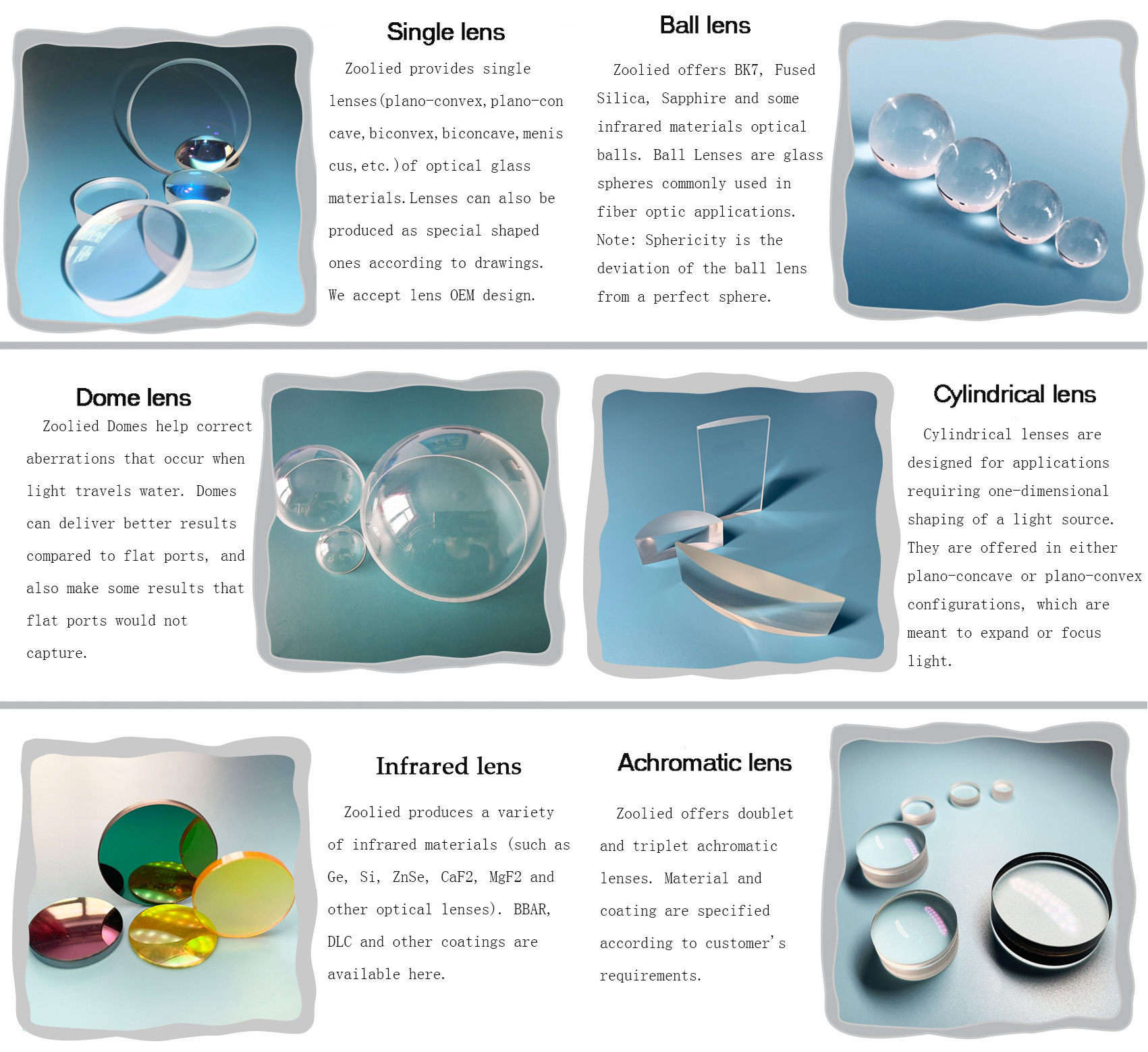 Zoolied can offer custom meniscus lenses to meet your requirements in a range of alternative materials or alternatively edge stock lenses for a quick turnaround, please enquire.Every component is individually tested by our highly skilled technicians in our state of the art metrology lab to ensure all components meet our high quality standards.

Zoolied Inc. ist ein führender Designer und Hersteller hochwertiger optischer Komponenten, Laserzubehör und Messgeräte für eine breite Palette von Laser-, Medizin-, Transport-, Biometrie-, Luft- und Raumfahrt- und anderen Fields-Lösungen. Bei Zoolied Inc. bemüht sich unser Forschungs- und Entwicklungsteam ständig, wegweisende Technologien zu entwickeln und innovative Produkte für den taktischen Markt zu liefern. Zoolied Inc. wurde im Jahr 2015 gegründet. In den letzten Jahren wurden in den letzten Jahren nicht nur die Markenprodukte von Zoolied getestet und in die Prüfung gestellt und zur Verwendung in verschiedenen Abteilungen des Inlandsmarktes geliefert, sondern auch nach Nordamerika, Südostasien und Europa exportiert. Das Vorhandensein positiver Bewertungen und das Fehlen von Beschwerden ihrerseits bestätigen die hohe Qualität von Zoolied.
Name der Firma: Zoolied Inc.
Vertreter: XianFuzuo
Produkt / Dienstleistung: IR -Objektive , Optische Spiegel , Optische Filter , Siliziumscheibe , Optische Linse , Kristalloptik
Kapital: 500000RMB
Jahr Errichtet: 2015
Absatzmenge des Jahres (in Mio. US $): Below US$1 Million
Exportanteil: 61% - 70%
Jährliche Kaufvolumen (Millionen US $): Below US$1 Million
Zahl der Fertigungslinien: 1
Zahl der Mannschaft der R&D: Fewer than 5 People
Zahl der Mannschaft der QC: Fewer than 5 People
OEM Dienstleistungen verbieten: yes
Größe der Fabrik (Sq.meters):: Below 1,000 square meters
Ort der Fabrik: Fenghegxijun #27
Ansprechpartner: Ms. Nora
Telefonnummer: 86-15568866507